A sweet-smiling, freshly minted CUNY Law School grad triggered an international outcry with an impassioned commencement address that attacked Israel, capitalism, the New York Police Department and a host of other bogeymen. While celebrating the achievements of what a New York Times writer called "a small, modestly ranked law school in Queens," Fatima Mousa Mohammed, 24, provoked the ire first of the New York Post (which drew global attention to her talk with a cover piece headlined "Stark Raving Grad" two weeks after the May 12 event).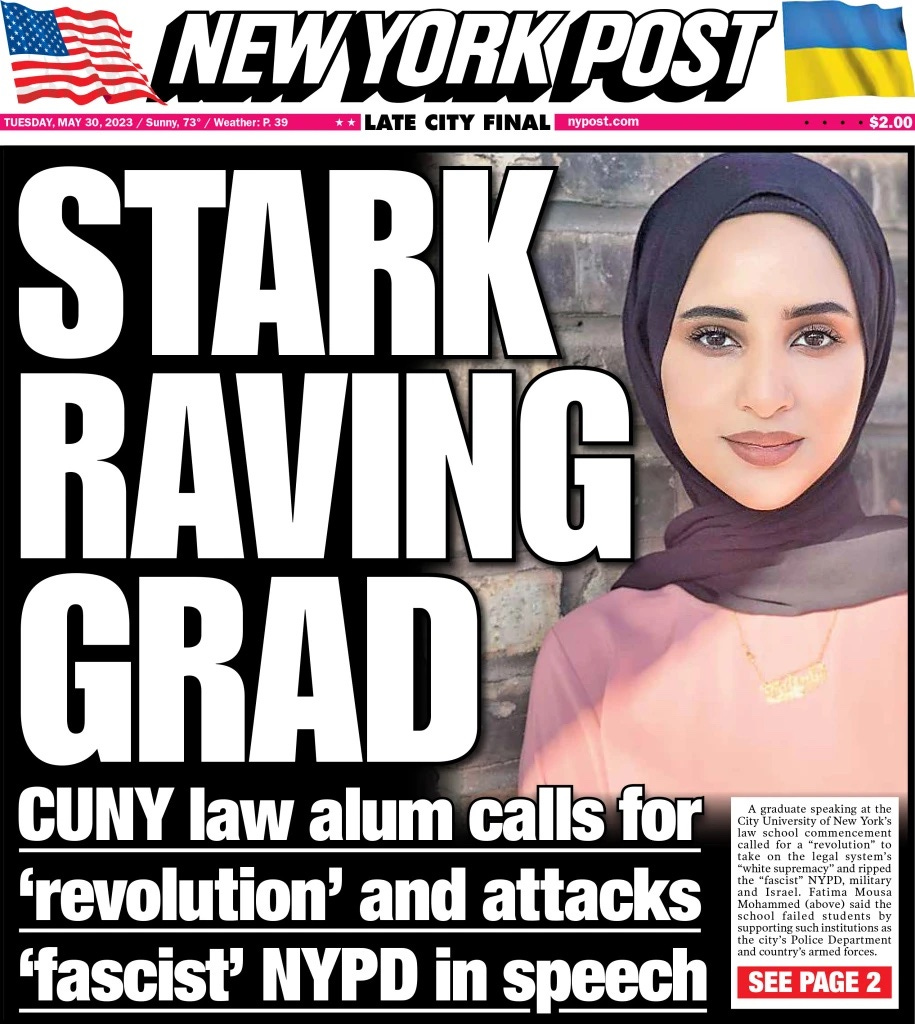 Mohammed's talk lasted less than 13 minutes and can be seen in its entirety here. As any viewer can see, she liked tossing verbal bombs, even as she condemned real ones – at least those fired by one side.
"Israel continues to indiscriminately rain bullets and bombs on worshippers, murdering the old, the young, attacking even funerals and graveyards, as it encourages lynch mobs to target Palestinian homes and businesses, as it imprisons its children, as it continues its project of settler colonialism, expelling Palestinians from their homes, carrying the ongoing nakba, that our silence is no longer acceptable," she said in her most fiery phrases.
Riding the storm she generated, the Post has run a long strand of pieces covering reaction to Mohammed's invective. Politicians ranging from Mayor Eric Adams (also a target of Mohammed's talk) to Ted Cruz have decried her remarks, as other media outlets piled on (see the Daily Mail, The Times of Israel, Fox News, National Review, The Chronicle of Higher Education). For a more sympathetic account, check out Aljazeera.
Some of the critics probed Mohammed's social history to find such gems as her wishing in May 2021 that "every Zionist burn in the hottest pit of hell." In her commencement talk, she praised BDS and the support given it at CUNY Law, the sort of hook that almost made her comments relevant to the event (though that was a stretch).
For their part, the chancellor and trustees of CUNY, in a brief statement, slammed Mohammed for "hate speech." They lambasted her "public expression of hate toward people and communities based on their religion, race or political affiliation." And they added: "This speech is particularly unacceptable at a ceremony celebrating the achievements of a wide diversity of graduates, and hurtful to the entire CUNY community, which was founded on the principle of equal access and opportunity."
Calls went out to defund the law school. Indeed, some politicians called for New York's governor to withhold public funds from any CUNY campus allowing incendiary rhetoric at university events. In turn, this has provoked the ire of free-speech advocates such as the Foundation for Individual Rights and Expression (FIRE).
Was Mohammed's talk repugnant, inaccurate, unfair, mostly baseless, etc.? No doubt. While she attacked Israelis, could she not spare a phrase condemning Palestinians for killing a British-Israeli mother and daughter in April? That attack prompted Israel to retaliate by killing the assailants. Indeed, any honest account of the Israel-Palestinian conflict would have to address both sides in a very ugly and long conflict.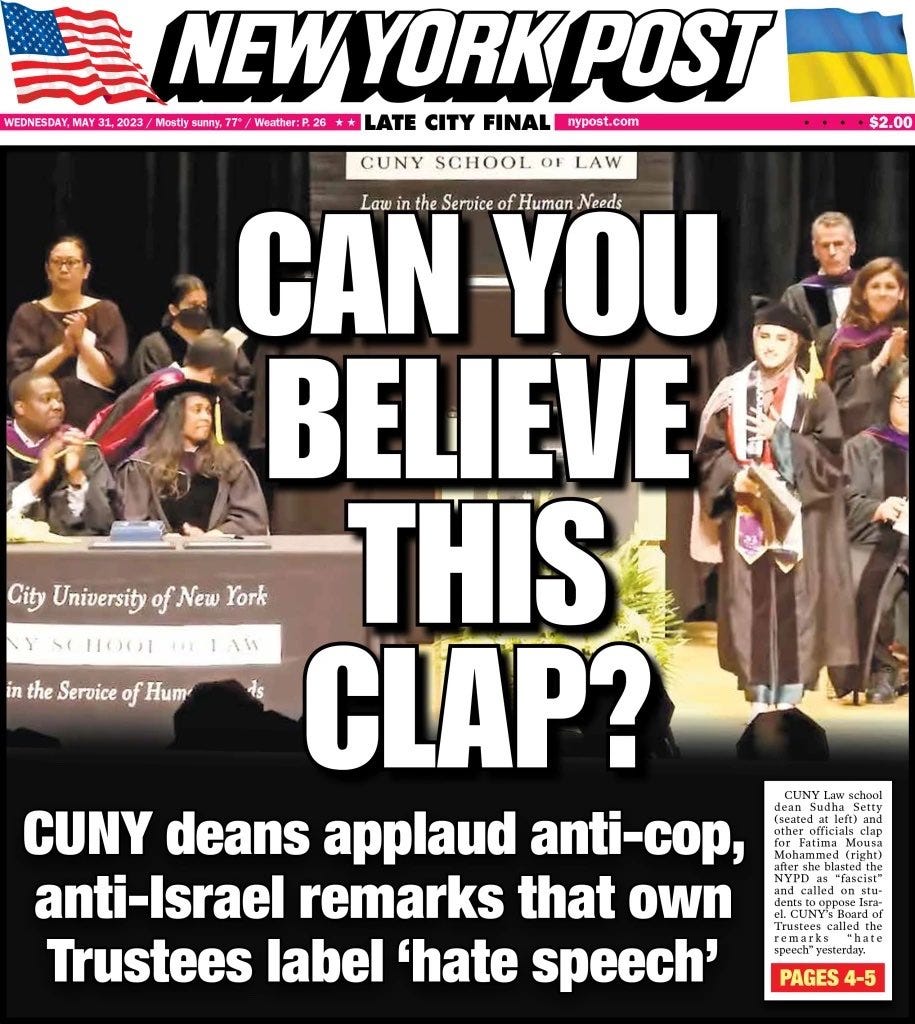 Mistaken as she was in so many ways, it is nonetheless understandable for someone to want to defend her community. But, as a lawyer supposedly trained to see all sides of an argument, she left glaring gaps in a one-sided tirade that had all the nuance of a freshman diatribe. It fell far short of what one might expect from a law school graduate. If they watched the spectacle dispassionately, CUNY Law faculty members would find little to be proud of in Mohammed or in the training they gave her.
Still, the contretemps offers an important lesson for media and the academy. Free speech is messy and may include ignorance, bias and many other ugly things. But, as FIRE argued in its letter, "At CUNY, if the university punished speech that is anti-Israel, it would open the door to punish speech that is anti-Palestinian, anti-conservative, anti-liberal, and more."
The extensive coverage, particularly by some of the more level-headed outlets on the right, suggests that the best response to the ignorance Mohammed demonstrated is intelligent speech. With her vile remarks, Mohammed has given her school quite a black eye and shown how poorly CUNY and other schools she attended have served her. It may be that a hard look at CUNY Law is warranted and one would hope the press – on all sides – would provide that. If her talk serves any useful purpose, it would be in triggering such examinations.