Journalists report on the horrors perpetrated by Hamas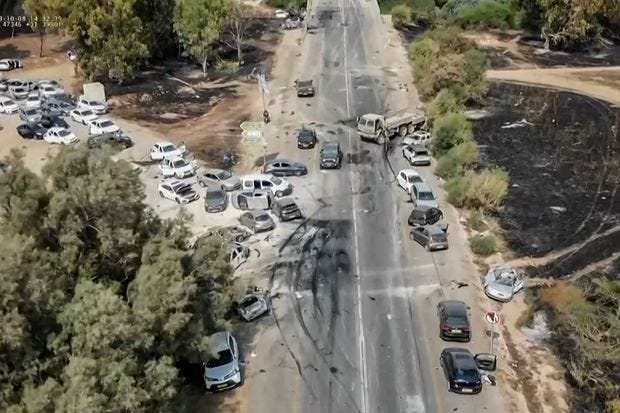 It is so terribly difficult to write about the atrocities in Israel. For anyone who embraces idea of the Jewish homeland and her people, the horrors perpetrated by Hamas are beyond awful.
One hears echoes of the Gestapo in the maniacal, indiscriminate killings of hundreds at a music festival, in the raids on people's houses all across the south, in the stealing of people from their children, in the stealing of children. In the rocket attacks, one hears the whistle of V-2s in London.
But even for non-Jews or those with no connection to Israel, the sheer monstrousness and inhumanity defies explanation. How could these terrorists be so heartless, so savage? Reared on hatred and propaganda, they acted like animals. And, as Israeli Defense Minister Yoav Gallant said of the severe and growing Israeli response, "We are fighting human animals and we are acting accordingly."
Hamas officials not only bear the stain of killing hundreds in Israel but will now have blood on their hands for the noncombatant Palestinians killed or to be killed in response. As the organization's leaders cower in bunkers and safe hiding places, they are in effect victimizing their own people.
Journalistically, covering all this has been a huge challenge. The counts of dead and wounded climbed almost by the hour in the first few days and surely will never be precise. It seems inevitable that the figures will rise over coming days, perhaps weeks. And conveying the ugliness without tipping into gory displays – the violence porn that is Hamas's wont – is a difficult task.
Hamas flooded social media with gruesome images of killings and kidnappings, of dragging bodies of Jewish noncombatants through their streets. No doubt, in coming days it will fill the media with videos of hostages as the terrorists use them as bargaining chips or tools to demoralize Israelis. Their sadism seems to know no bounds; their sense of morality is nonexistent.
Meanwhile, Israelis desperate to learn the fates of such hostages are posting images of them in pleas for their safety. How can one not feel for such innocents?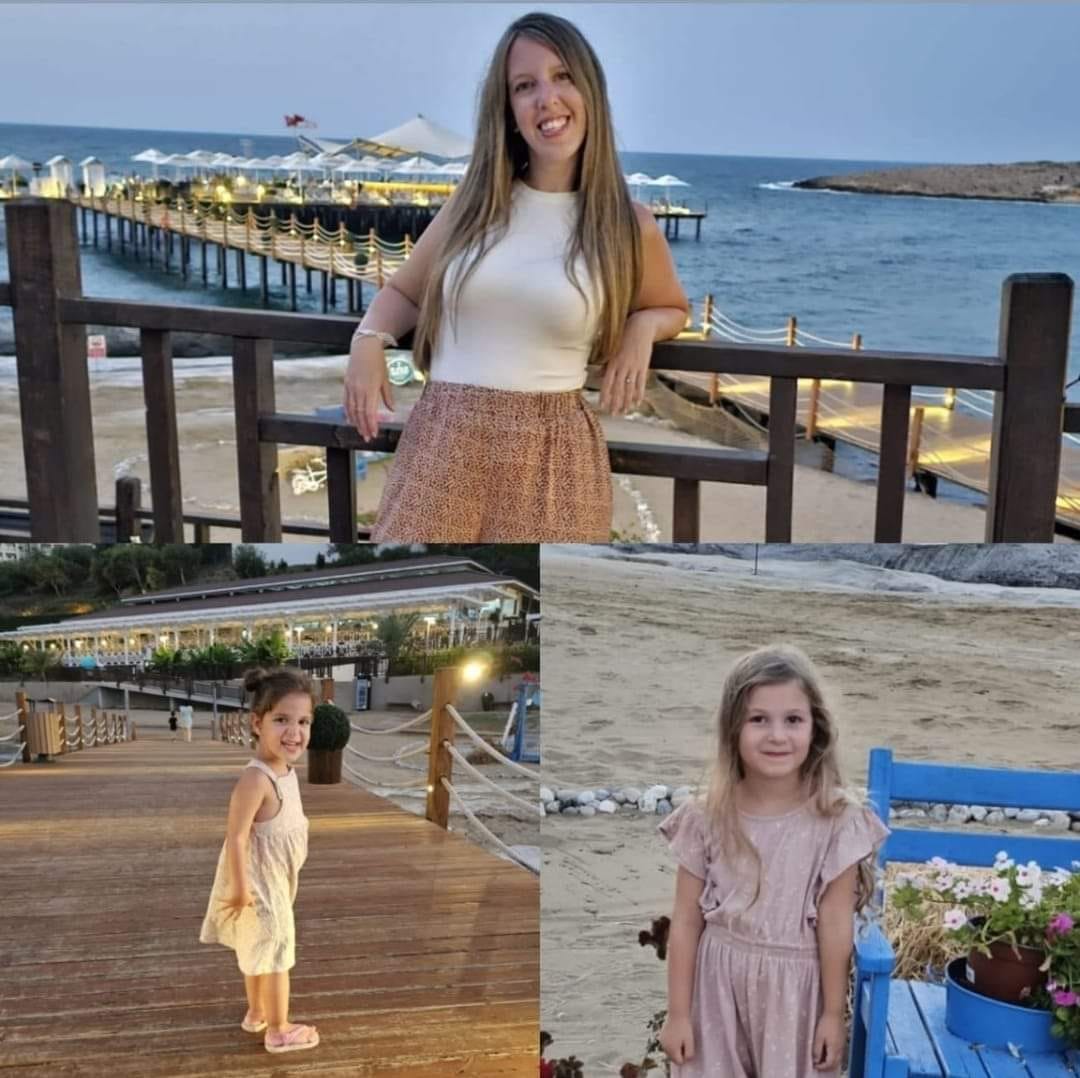 While most accounts so far reflect the revulsion most journalists seem to feel about the actions of these terrorists, it is likely that in coming days we will see efforts to be "balanced," to attempt to be evenhanded. Journalists are trained, of course, to see all sides and to reflect all sides in their coverage, and that's usually a good thing.
But this "bothsidesism" can be blind to the causes of news events and thus be misleading.
For instance, an editor at The Colorado Sun in an email to subscribers wrote: "… it's hard not to ache for those in Israel and Palestine as we see footage of the increasing violence in the region. In this somber time as we mourn those who were killed, let's get caught up on the Colorado news and hope for a quick resolution to the tragedy and horror half a world away."
Aside from the saccharine sentiments and naivete revealed in hoping for a "quick resolution" to a problem over a century in the making, the "ache" for those in Israel and Palestine neatly masks the truth about who the aggressor here has been. And the reference to "increasing violence in the region" is a feeble way of making note of a mass murder by terrorists. The news outlet needs to tell it like it is, perhaps by reporting well on the reactions of Coloradans whose loved ones were killed or kidnapped by Hamas.
Yes, media must report the reactions of Palestinians, even of terrorist supporters. Yes, sympathy is appropriate in such accounts for noncombatant Gazans, many of whom have been and will now be killed thanks to the acts of the terrorists. But the perpetrators of these awful acts must be identified as the aggressors and their cruelty must be noted at each turn, even if only in the questioning of their sympathizers.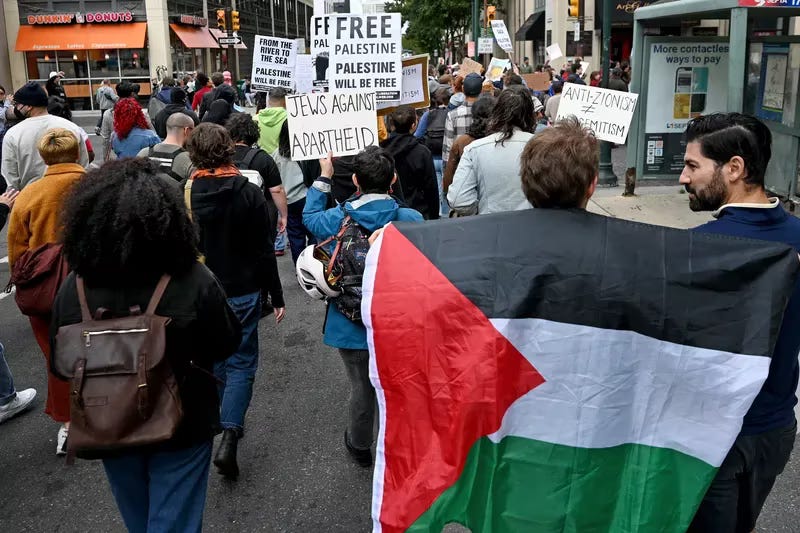 The Philadelphia Inquirer rightly gave prominence to the reactions of Jews to the monstrousness, even as it also covered Palestinian sympathizers. But it failed to probe and question the feelings of those sympathizers.
How could a couple hundred such sympathizers demonstrating for Palestine in Rittenhouse Square justify the murders of hundreds of innocents? Simply reporting their chants in favor of a Palestine "from the river to the sea" – a phrase used to deny Israel's right to exist — and recording assertions by a spokesperson saying the demonstration "was about all oppressed people" was not enough. Why was she not pressed about the immorality of the attacks?
Straight and full reporting of the events will be criticized, although it's essential. Heather Cox Richardson, a scholar and one of my favorite Substack commentators, did so in an Oct. 7 piece that simply recounted what had happened. She was criticized for that, writing in a more recent piece: "The volume of hate mail about last Saturday's letter, pretty evenly divided between those accusing me of backing one side and those accusing me of backing the other, is about the highest I've ever received, but I was trying simply to present the verified events of Saturday alone, with a focus on how they affected the United States."
As Israel moves against Gaza, the suffering of Gazans will be appropriately covered. And there will be analyses of the bloody history of both sides, including coverage of times when noncombatant Palestinians have been killed by Israeli soldiers as they sought to root out terrorists. That is reasonable, as one shows all sides.
However, a crucial distinction must be made. The killing of civilians is not Israeli policy. Tragically, they get in the way at times. Tragically, there are mistakes – usually owned up to by Israel.
The difference is that, for Hamas, murdering Israeli civilians is an end in itself. That is what the group is about, as it seeks to drive Jews from the land. There can be no more stark illustration of that than its actions at the music festival and in the terrorizing of people in their homes, something Jews, the media and the world should never forget as this sad story unfolds.